Industry-leading Air testing Equipment In-Duct Air Quality Detector Multi-sensors PMD Series
Brief Introduction
Product Tags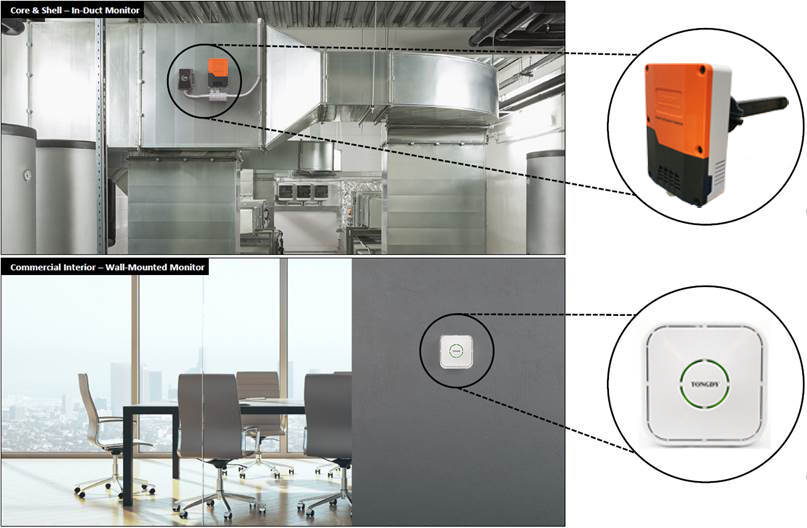 • PMD-18 in-duct air quality detector is specially designed for monitoring multi-parameter air quality in air duct, Which is installed in wind duct or return air duct.
• The built-in sensor module uses Tongdy's patented data algorithm, with enclosed cast aluminium structure. It ensures the stability, air closure and shielding, greatly improves the anti-interference ability.
• Built-in a large air bearing fan, regulate the fan speed automatically, guarantee constant air volume and improve the stability and lifetime in long-term working.
• Special design of pitot tube, instead the air pump mode, adapt to a wider range of wind speeds. To have longer lifetime and no need to change the air pump frequently.
• Easy to clean filter mesh, can be disassembled and used many times
• With temperature and humidity compensation, reduce the impact of environmental change.
• Real-time monitoring parameters: particles (PM2.5 and PM10), carbon dioxide (CO2), TVOC, air temperature and humidity, as well as optional carbon monoxide or formaldehyde,.
• Independently measure the temperature and humidity in the air duct, avoid interference from other sensors and monitoring heating.
• Provides WIFI, RJ45 Ethernet, RS485 Modbus communication interfaces selection. Provide multiple communication protocol choices.
• Connect to the data acquisition/analysis software platform to achieve data storage, data comparison and data analysis.
• Data can be read and displayed on-site with blue tooth or the operation tool.
• Working with MSD indoor air quality monitors together, comprehensively and accurately analyze the air quality. Quantitative assessment of indoor air pollution.
• Working with TF9 series outdoor air environment monitors together to form a partial and complete regional air quality monitoring, analysis and treatment system.
General Data
Power Supply

12~28VDC/18~27VAC or 100~240VAC

 (optional)
Communication Interface
Choose one in the following

RS485

RS485/RTU

,

9600bps 8N1(default), 15KV Antistatic protection

RJ45(Ethernet TCP)

MQTT protocol, Modbus customization or Modbus TCP optional

WiFi@2.4 GHz 802.11b/g/n

MQTT protocol, Modbus customization or Modbus TCP optional
Data upload interval cycle
Average / 60 seconds
Applicable air speed of duct
2.0~

15

m/s
Working Condition
-20℃~60℃/ 0~99%RH, (No condensation)
Storage Condition
0℃~50℃/ 10~60%RH
Overall Dimension
180X125X65.5mm
Pitot tube size
240mm
Net weight
850g
Shell material
PC material
CO2 Data
Sensor
Non-Dispersive Infrared Detector (NDIR)
Measuring Range

0

~

2,000ppm

Output Resolution
1ppm
Accuracy

±

50ppm + 3% of reading or

±

75ppm  (whichever is bigger)  

(

25

℃

, 10%~80%RH

)

Particle Data

Sensor

Laser particle sensor
Measuring Range

PM2.5:

0~

500

μ

g/

㎥ 

;

PM10:

0~

500

μ

g/

㎥;

O

utput

values

moving average/

60 seconds

,  moving average/1 hour,  moving average/24 hours

Output Resolution

0.1

μ

g/

㎥
Zero Point Stability

<2.5

μ

g/

㎥

PM2.5

 Accuracy (mean per hour)

<

±

5

μ

g/

㎥+

10

% reading

(

0~300

μ

g/

㎥ @10~

30

℃

,

10

~

6

0%RH

)

TVOC

Data

Sensor

Metal oxide

sensor
Measuring Range

0

~

3.5mg/m3

Output Resolution
0.001mg/m3
Accuracy

<

±

0.05mg/m3+ 15% of reading

(

25

℃

, 10%~60%RH

)

Temp

.&

Humi

.

 Data
Sensor
Band gap material temperature sensor、Capacitive humidity sensor

Temperature range

-

2

0℃~

6

0℃

Relative humidity range

0~

99

%RH
Output Resolution
T

emperature: 0.01

℃        

humidity:

0.01

%RH

Accuracy

±

0.5

℃,

3.5%RH

(25℃, 10%~

6

0%RH)
CO Data 

(option)

Sensor
Electrochemical 

CO sensor

Measuring Range
0

~

100ppm

Output Resolution

0.1ppm

Accuracy
±

1ppm+

 

5

% 

of reading

(25℃, 10%~

6

0%RH)

OZONE

 

(option)

Sensor
Electrochemical

Ozone

sensor
Measuring Range
0~

2000u

g∕

㎥

 

@20

℃

(

0~2mg/m

3

)
Output Resolution

2u

g∕

㎥

Accuracy
±

20ug/

m

3

+

 

10

% 

of reading

(25℃, 10%~

6

0%RH)
HCHO Data 

(option)

Sensor
Electrochemical Formaldehyde sensor
Measuring Range
0~0.6mg∕

㎥

Output Resolution
0.001mg∕

㎥

Accuracy
±0.005mg

/

㎥

+5% of reading  (

2

5℃, 10%~60%RH)
---
Previous:
Professional High Performance Indoor Air Quality Monitor with Multi-sensors CO2 TVOC PM2.5 HCHO, Commercial Grade with RS485 WiFi Ethernet
---
Write your message here and send it to us